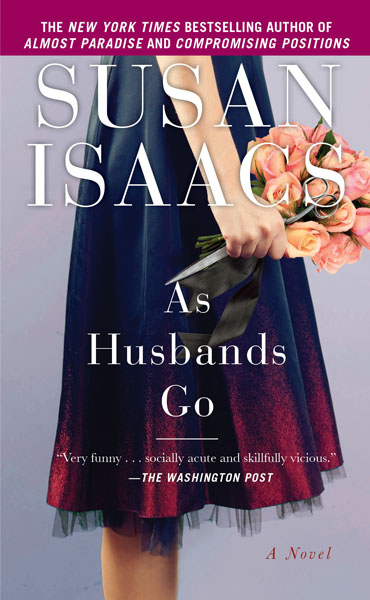 As Husbands Go, the latest from critically acclaimed, bestselling author, Susan Isaacs, is rare mix of wit, social satire, ethical inquiry and suspense. Its beautifully-drawn characters leap from the page to speak directly to the reader. The author's twelfth novel is moving story about a love that just won't give up.
Call her superficial, but Susie B. Anthony Rabinowitz Gersten assumed her marriage was great – and why not? She was beautiful. Talented too, but not threateningly so. Her husband, Jonah Gersten, M.D., a handsome, successful Park Avenue plastic surgeon, clearly adored her, and they were doting parents to their four-year-old triplets Dashiell, Evan, and Mason. But when Jonah is found in the Upper East Side apartment of second-rate "escort" Dorinda Dillon, Susie is overwhelmed with questions left unanswered. It's bad enough to know your husband's been murdered, but even worse when you're universally pitied (and quietly mocked) because of the sleaze factor.
None of it makes sense to Susie – not a sexual liaison with someone like Dorinda, not the "better not to discuss it" response from Jonah's partners. With help from her tough-talking, high-style Grandma Ethel who flies in from Miami, she takes on her snooty in-laws, her husband's partners as well as the NYPD, and the DA. She wants to know if the person arrested for the homicide is the actual perp, or just an easy mark for a prosecutor who hates the word "unsolved." And for her own peace of mind, she hopes to prove her wonderful life with Jonah was no lie.
Susan Isaacs brilliantly turns the conventions of the mystery on end as Susie Gersten, suburban mom, floral designer, and fashion plate, goes from shallow to deep in her search for the truth about her husband's life and death.
>> Susan's inspiration for As Husbands Go.
Bestseller Isaacs draws on tony Long Island, gritty New York City, and a tabloid-friendly murder for this smart-alecky whodunit/surprisingly sweet love story. Susan is left alone with her three boys, big suburban house, and nagging questions when plastic surgeon hubby Jonah Gersten turns up dead in a hooker's Upper East Side apartment. Though the police and prosecutors wind up their case against call girl Dorinda Dillon, it's far from settled for Susan. It simply didn't add up, in either my head or my heart, she confesses. And what better sidekick to track down the truth than Susan's rogue granny, Ethel. What follows is an intricate and fascinating dissection of Susan's marriage, family, husband's medical practice and partners, and the unwitting call girl at the center of it all. Isaacs (Past Perfect) brings it all together in this fast and furious ride through wanton greed, fragile relationships, and love worth fighting for."
— Publishers Weekly Starred Review
We have a great book for you…things, and spouses, are not what they seem in this rollicking caper."
— Good Housekeeping
With her usual keen eye for detail and humor, Isaacs takes a hard look at the sometimes impenetrable, often absurd social politics of upscale New York. Susie is a winning heroine: wry, smart, and self-deprecating. Fast paced and immensely satisfying,_ As Husbands Go_ is a novel about a woman trying to prove that her charmed life was no fairy tale, and in the process learning a lot about herself."
— Bookpage
Nobody but nobody skewers vanity with the daring yet big-hearted wit of Susan Isaacs. As Husbands Go is mandatory reading for anyone who's married, not married, was married or is thinking of getting married. I laughed my head off. And I was profoundly moved. That's what Isaacs does. And she does it better than anyone else on earth."
— Patricia Volk, author of Stuffed and To My Dearest Friends
Isaacs' latest Jewish-gal-under-stress adventure purrs along perfectly sharply funny, all-knowing, and marvelously diverting."
— Booklist_, Donna Seaman'