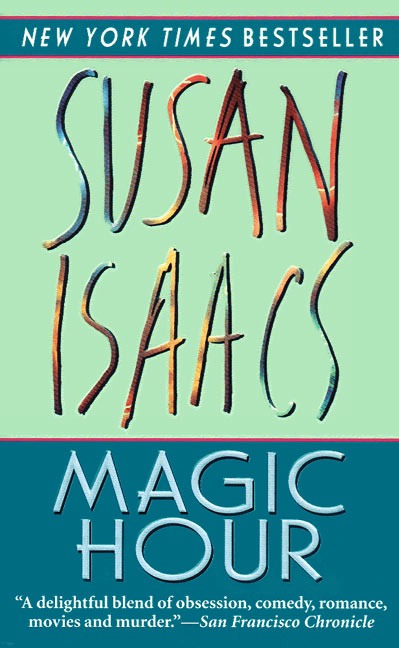 Read Excerpt
Susan Isaacs brings her wicked wit and keen understanding of what really goes on between men and women to a very different slice of Long Island- the Hamptons.
Magic Hour. That perfect time, that fleeting hour of enchanted light near dusk and dawn that is perfect for moviemaking, perfect for making love. Perfect for murder.
And into the magic hour steps Stephen Brady, wise guy, tough guy, local farm boy turned homicide cop, and a good man with a very bad life. But just as his luck is about to change, the rich, gifted, and urbane filmmaker Sy Spencer is murdered, and Brady discovers that his prime suspect is a woman he and the victim shared.
A spellbinding mystery, a scathing social satire and a poignant love story, Magic Hour looks beyond the trendy magazine-cover Hamptons' world of the summer set's high-cheekboned elegance and the locals' down-on-the-farm authenticity into the hearts of real people.
This is the story of the treacherous murder that rocks them all and of the police detective who is too cold-hearted, too world-weary to ever fall in love- until he does.
>> Susan's inspiration for Magic Hour.
Snappy plot."
— Entertainment Weekly
The same witticism-wrapped… center that always drives Isaacs's fans dotty."
— Kirkus Reviews
Elegantly funny and original… Long after the handcuffs are snapped shut you're likely to find yourself smiling fondly at the memory of Susan Isaacs's one-of-a-kind characters."
— Anne Tyler, author of Pulitzer Prize-winning novel Breathing Lessons
A novel that keeps you guessing, raises your eyebrows, races your motor and makes you laugh out loud, only to bring you, in the end, close to tears. Magic Hour is a hats-off achievement."
— Washington Times
Good news for Isaacs's fans: She is back in top form… again exhibiting her wickedly observant eye and flair for ricocheting pitch-perfect dialogue."
— Publishers Weekly
A witty and sexy page-turner."
— Pittsburgh Press
Holds its edge."
— Glamour
If you're in search of pure entertainment, pick up a copy of Magic Hour."
— New Woman
Magic Hour does exactly what it's supposed to do - entertain."
— Chicago Tribune
A wonderfully rich, sensual sort of novel… The dialogue rips along with panache, with sharp and surprising turns, always funny, always fun."
— Detroit News
Clever, unexpected, drum-tight… The plot is streamlined and the time-frame is short and the voice we hear is witty, and coming-at-us real."
— Washington Post Book World
Vintage Isaacs… Magic Hour is like polishing off an entire box of chocolate-covered chocolates… Fun."
— New York Times Book Review
A delightful blend of obsession, comedy, romance, movies and murder."
— San Francisco Chronicle